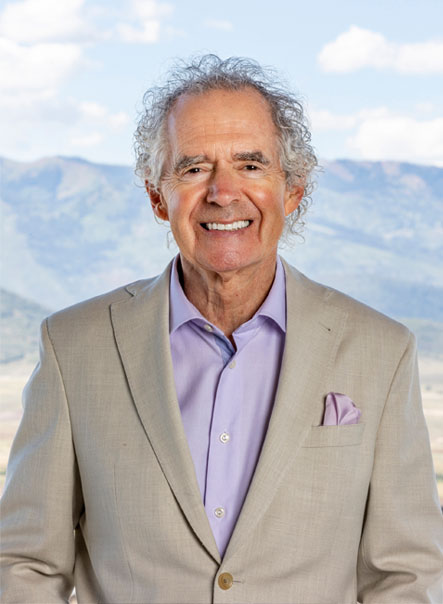 Contact
Peter Linsey
Associate Broker
Certified Residential Broker Manager, Certified Negotiation Expert
With over 44 years of experience in real estate, Peter Linsey, Associate Broker, CRB (Certified Residential Broker Manager), CNE (Certified Negotiation Expert) has a proven track-record of honesty, integrity, and success that you can trust.
Since he was 12 years old, Peter has lived, worked, and visited most of the major mountain towns across Colorado, Wyoming, Montana, California, Arizona, and Utah. From Hollywood celebrities to Wall Street CEO's to international statesmen, the business, professional, political, and entertainment elite from across the world look to Peter to fulfill their real estate dreams. An acknowledged expert in the field, Peter has earned recognition from The Wall Street Journal, Town and Country Magazine, The New York Times, The London Financial Times, Great Estates Magazine, and many more. He was also featured in the British Broadcasting Corporation television show, "A Day in the Life of a Luxury Realtor."
While living in Jackson Hole, Peter was the Managing Broker for Sotheby's International Realty for all of Wyoming and Montana. In 2006, he was recruited by Prudential Utah Real Estate to be their Regional Manager for 10 offices across the Wasatch Front. Because of his long history with Sotheby's and his belief that Sotheby's is the best and most effective luxury brand in the real estate business, Peter returned to Sotheby's to join their Park City, Utah office. Sotheby's market share in Park City, their international network of sales associates, and the unique services that they provide enable him to offer extraordinary service to his clients.
Having developed and sold luxury homes himself, Peter also works as a consultant for developers and buyers in all phases of real estate, including land procurement, architectural design, and site development. He has served as Director of Sales and Broker for the successful 600 acre Eagle Bend Golf Community in Big Fork, Montana. His experience and leadership have enabled him to gain unmatched insight and connections and he has developed an extensive national and international client base with an interest in the Rocky Mountain Region.
A native of Cleveland, Ohio, Peter's attended the University of Wyoming and Ohio State University. Peter and his wife, Judith, have four grown children and three grandchildren. Peter thoroughly enjoys the outdoor lifestyle of Park City and can be found horseback riding, skiing, golfing or playing tennis in his free time. He has been involved with numerous civic and non-profit organizations, including Camp Make-A-Dream, where he helped fundraise with their national spokesperson, actress Susan Anton.
Peter has more experience with the Sotheby's International Brand than any other agent in Utah, having been associated with Sotheby's for almost 30 years. Because of Peter's many years of experience, he has developed a large personal network of agents throughout Sotheby's International Realty, allowing Peter to offer superior worldwide service.
Having lived, worked, and traveled throughout the West, Peter strongly believes that, of all the Rocky Mountain resort towns, Park City offers the ideal mix of luxury and value, celebrity excitement and nurturing solitude, summer and winter activities, and indoor and outdoor adventure. Whether you are interested in buying or selling, Peter is the luxury real estate expert that you can trust.
Those who have worked with Peter in the past remain clients, customers, and friends today- testimony to his "relationship-oriented philosophy" of business and life
Tier 1 Agent, SSIR 20 Years++
Linsey and Leake Team - Top 1% of All Agents, According to Tom Ferry and Real Trends 2021
Top 1,000 Real Estate Agents in Production 2021
Highest Number of Real Estate Transactions - Arizona, 1979-1980
#3 Dollar Volume vs. 12,000 Real Estate Agents in Maricopa County, AZ 1982